SimpleFTPClient
SimpleFTPClient is an FTP client application with user-friendly GUI. It is written in C#.
Here are the basic operations that SimpleFTPClient supports:
Uploading files
Downloading files
Renaming remote files
Deleting remote files
Creating remote directories
Multiple upload or download operations are queued and handled one after another. The user can restart, pause or stop a file transfer process easily. Interrupted file transfers can be recovered later.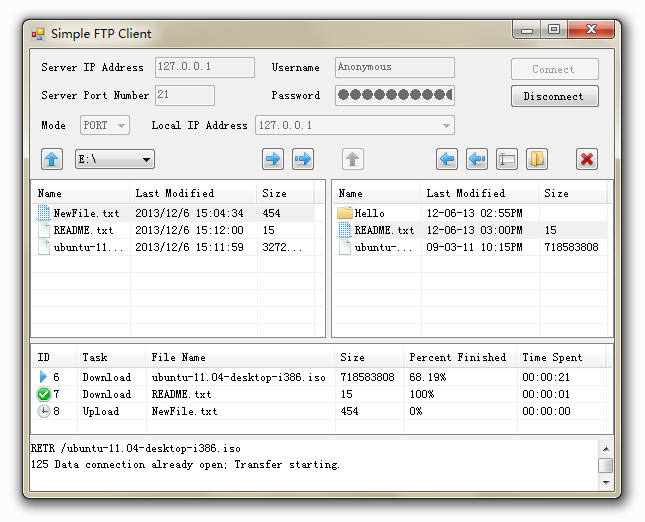 SimpleFTPClient supports PORT and PASV modes to avoid problems related to NAT or firewalls. The standard FTP commands supported by SimpleFTPClient are as follows:
USER, PASS, CWD, QUIT, PORT, PASV, TYPE, RETR, STOR, REST, RNFR, RNTO, ABOR, DELE, RMD, MKD, PWD, LIST and NOOP (defined in RFC 959)
RETR (for use in stream mode) and SIZE (defined in RFC 3659)
SimpleFTPClient was one of my course project for Computer Networks (Course Number: 44100113) at Tsinghua University in autumn 2011.